How to arrange the best sea spearfishing adventure
Use our step-by-step guide to make things right.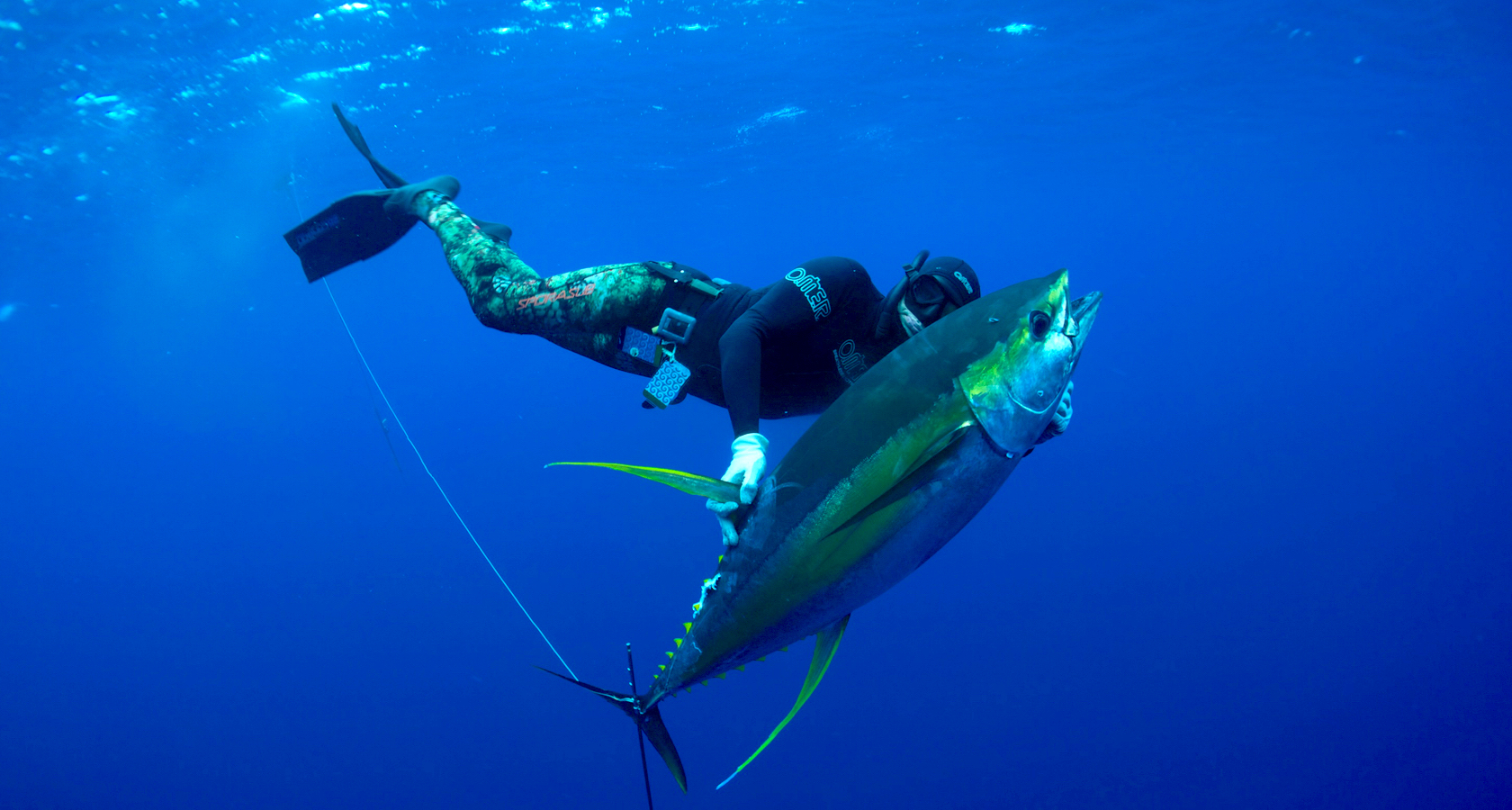 © Oleg Gavrilin | You Tube Channel | Trophy Hunter
Let's find some fish spots
The starting point for safari planning is a trophy. Find out as much as possible about your fish dream: how much it weighs, what it eats, how it lives, is it reef or pelagic fish, at what depth occurs, how to hunt it, and where the largest specimens are.
Here is the description of the main trophy fish - tuna, amberjack, marlins, wahoo. Check out Fishbase.se, the World Register of Marine Species, and the Oceana Encyclopedia of Marine Life.
Example 1
What you can learn about yellowfin tuna on the Oceana website:
What kind of fish is this: a pelagic predator, occurs in tropical waters around the world;
Weight, length: it might grow up to two meters and weigh up to 190 kilos;
Behavior: swims very fast, constantly migrates, moves continuously in the water column, often in a group of other tuna or dolphins. The only enemies of adult tuna are predatory whales, large sharks, and very large marlins. This fish feed on squid and small bony fish.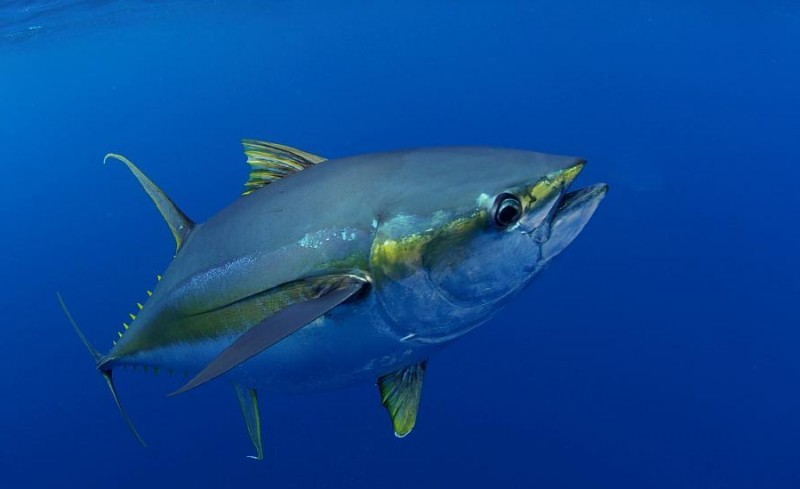 The yellowfin tuna is one of the open ocean's fastest, strongest predators and an important fishery species everywhere that it lives. Reaching weights of at least 400 pounds (~190 kg) and lengths of nearly 7 feet (~2 m), the yellowfin tuna is a large species that will eat just about anything that it can swallow (typically whole). Like many open ocean bony fishes, yellowfin tunas start out as extremely tiny larvae, no more than a few millimeters long and weighing only a few hundredths of a gram. Within two years, individuals reach lengths of 3 feet (~ one meter) and are sexually mature.
If you want to find out where and when the fish of your dreams was caught, just go to the website of organizations that register records in spearfishing and fishing (IBSRC, IGFA, IUSA). Check out the dates of the record. Read the record-holders' stories at IBSRC about how they caught the trophy and what equipment they used. The fresher, the better.
They also discuss their trophies at spearboard.com, the major English-speaking forum, where spear hunters from all over the world are hanging out. You can find some more information about hunting in the USA and Mexico, but Asian and European directions are also highlighted.
Example 2
We continue to inquire about yellowfin tuna. I found it in the IBSRS species records and figured out that the largest specimen,​​ up to 160 kilos, was caught in Puerto Vallarta (Mexico) in early October. The author mentioned in his comment that he spent 1 minute 45 seconds underwater, diving 18 meters. An hour and a half passed from the moment of the shot to the pic in the boat were taken - such a powerful fish. It took some real effort to get it.
The current record among women - 86 kg, was set in the same place, in Puerto Vallarta. And the previous male record holder took 140 kg of tuna in December on the west coast of Costa Rica.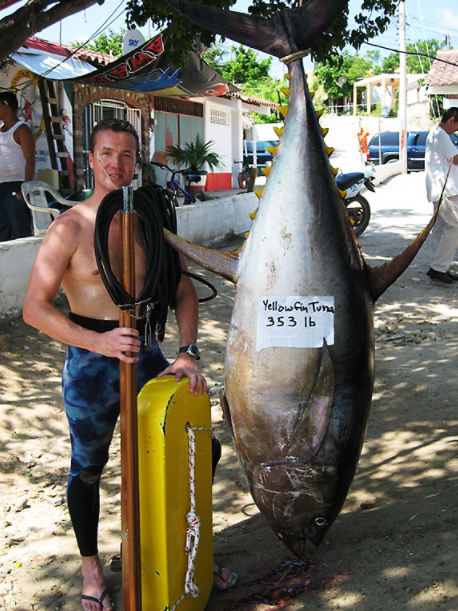 The hunter used a 120 cm wooden crossbow with four rods to get this huge 160 kg tuna.
Those pics of trophy men with fish of your dream and hunting videos on YouTube help realize better the tactics of hunting fish and choose the right gun and equipment.
The video from Ascension Island clearly shows that for hunting yellowfin tuna, we used a flasher and fed it with cham - specially prepared pieces of fish. We also found out that the wounded fish pulls strongly. Got lucky that the tuna did not get deep.
Use multiple sources and check the information thoroughly, choosing a country for a trip. Print out the world map or the particular region and chart everything you find out on it.
The reef fish occurs in the most generous region for trophies, for hunting pelagic one, study its seasonal migrations. Map fish migration path for verification. Find out what months and locations are the best for a successful hunt.
After researching and getting some possible hunting regions, figure out the times of the monsoons and dry seasons. Check out seasonality on weather maps over several years. For catching a pelagic trophy, you should explore several regions where it occurs at different seasons.
Let's figure out the rules of hunting.
There is something you need to know:
Is hunting in the country you want to go permitted?
Spearfishing is allowed in most countries in the world. It is completely banned only in Egypt, the Maldives, Seychelles, Mauritius, the Philippines, Germany, Austria, Sweden, Switzerland, Hong Kong. You can't even bring a spearfishing gun to Hong Kong if you're in transit.
What are the regulations in the country and specific region?
Be sure to check the local spearfishing regulations. They can be conventionally divided into standard, frequent and local.
Standard. Spearfishing near marinas and beaches, on popular dive spots, in reserves shall be punished in any civilized country. There can be several dozen reserves in Indonesia - 248. Google them for marine protected areas/conservation areas. Scuba diving spearfishing is strictly prohibited almost everywhere except in the USA, Australia, and Norway.
Frequent. Night spearfishing with a flashlight is banned. Restrictions depend on the species and sizes of fish. In Denmark, for example, you cannot fish for salmon less than 50 cm in length; in Norway - to hunt lobsters, Italy and Spain prohibit catching grouper and slab in the Mediterranean and France - grouper and bluefin tuna.
Local. You'll never guess. You just need to know it for sure. For example, you cannot hunt in some provinces of Canada and Malaysia. In Thailand, it is allowed to fish at least three kilometers from the coast. The Bahamas permit hunting with a sling only, no guns with trigger mechanisms. In Norway, a pneumatic gun permit is required. In Mexico, pneumatic weapons are prohibited and entering the country. You also cannot bring weapons to Malta, and you have to buy them locally. France is completely divided into four spearfishing zones, each with its own rules.
Does a spear hunter need a license?
There are recreational and professional licenses. The latter is more expensive and is required in case you are going to sell fish to local restaurants. Selling fish is prohibited in some countries, like Mexico or France. You can get recreational licenses and insurance for 40-50 euros at local spearfishing clubs and equipment shops in France. The licenses are valid until the end of the year and apply to sport fishing. In Turkey, accredited travel agencies sell licenses to foreigners.
No license
Cape Verde
Bali
Sri Lanka
Portugal
Panama
Dominican Republic
Cuba
Mexico
License required
Malta
Greece
Spain
Italy
Turkey
Croatia
Montenegro
It's time to find out about the prohibitions and rules
1. Examine the official documents on the website of the local ministry.
2. Look through articles on spearbord.com, deeperblue.com spearblue forums.
3. Chat on Facebook with the author of the record you'd like to know.
4. Get a consultation from an expert experienced in arranging a safari trip to the region you want.
Let's plan a trip considering all the details.
Install nautical and wind offline maps on your device, a tide calendar. Find out the situation in the region.
Don't forget to visit passageweather.com before packing your luggage. The site gives a detailed weather forecast worldwide for a week ahead: water and air temperatures, wind direction and speed, wave height, pressure, cloudiness, precipitation.
Nautical chart
Example: C-map, Garmin Bluechart.
Use the map to select spots for hunting and navigate the place. A good map is distinguished by high resolution, maximum coastline detail, GPS tracking, distinct depth contours. We use offline maps since it saves money in roaming, and it still works when there is no Internet for a hundred miles around.
Tide calendar
Example: Wolfram Tides Calculator.
Displays the time and height of the tides, the day's length, the flow of water. Search the tide calendar for "tide chart" or "tide table."
Wind Map
Example: Windy, Real Wind.
The free Windy app shows the current situation and a 10-day forecast. There is the waves height forecast, information about precipitation and air temperature, the function of adding your points to the map. You can share the results on social media, save them on the mail or Google Drive.
Let's solve some organizational issues
Planning the route. Online services for tourists will definitely help us. Rome2Rio, offers multiple route options, including the cost and travel times.
Route planning example
We are going for spearfishing in Norway for cod, lure, and seafood. The app showed us six options to get there.
The fastest. Moscow - Bergen flight with a transfer in the Netherlands. It takes us 8 hours for 30 thousand for a round-trip ticket.
The most romantic one. It takes 49 hours, the best choice for fans of seagulls and tea from glasses in glass holders. By night train to Helsinki, from there by ferry to Stockholm, then getting to the place by local railways.
The most independent. You can get there by car in 40 hours, but you are taking risks of getting stuck somewhere in Poland with beer and Krakus ham.
Still, we've chosen the following option—direct flight Moscow - Oslo "Aeroflot" and 600 km by car through half of Norway. Round-trip tickets 15-20 thousand + car rental for two weeks.
Choose equipment for the trip, depending on the trophy we want to get, weather, regional legislation, and the airline rules. If you put the guns in a separate bag, please check the rules for paying for the extra baggage. Some airlines allow you to take your outdoor equipment with discounts like AirMalta or even for free like British Airways.
We are booking a car. When filling out the order form, mention the exact time of car delivery. Other customers can take the car if you do not fill in this item or specify an abstract time. If your flight is delayed, notify your provider. If you didn't do that, you would be rampaging down Italy in a Fiat "Panda" instead of fast and furious Alfa Romeo "Juliet."
The Big Four rental cars at all major airports globally are the following - Avis, Hertz, Europcar, and Sixt the most expensive and the harshest with the clients. Google local providers, since they are cheaper and more friendly. Get in touch with them in advance, and they will meet you at the appointed time at the exit from the terminal and give you a lift to their parking lot. They save money and rarely have parking at the airport. After returning the car, they will even give you a ride to the Airport.
Hunt your trophy with Apnea Boom Spearfishing Pro Course!
If you are a fan of spearfishing and freediving, blue water - is the one option that you simply cannot afford to miss out on. Furthermore, we are arranging additional Wahoo trips that will allow you to hunt the Wahoo (Serra) in their natural habitat.
Not for Fun but for Trophy

Try our reefs and bluewaters

Breath-holds of over 3 minutes with pleasure

Big depth mean real big fish!

Learn how to stay safe in the ocean with our instructors

Price from 275€
Course duration: 3 hrs per day, 3-4 days (depends on the weather conditions)
Best Spearfishing Camp 2022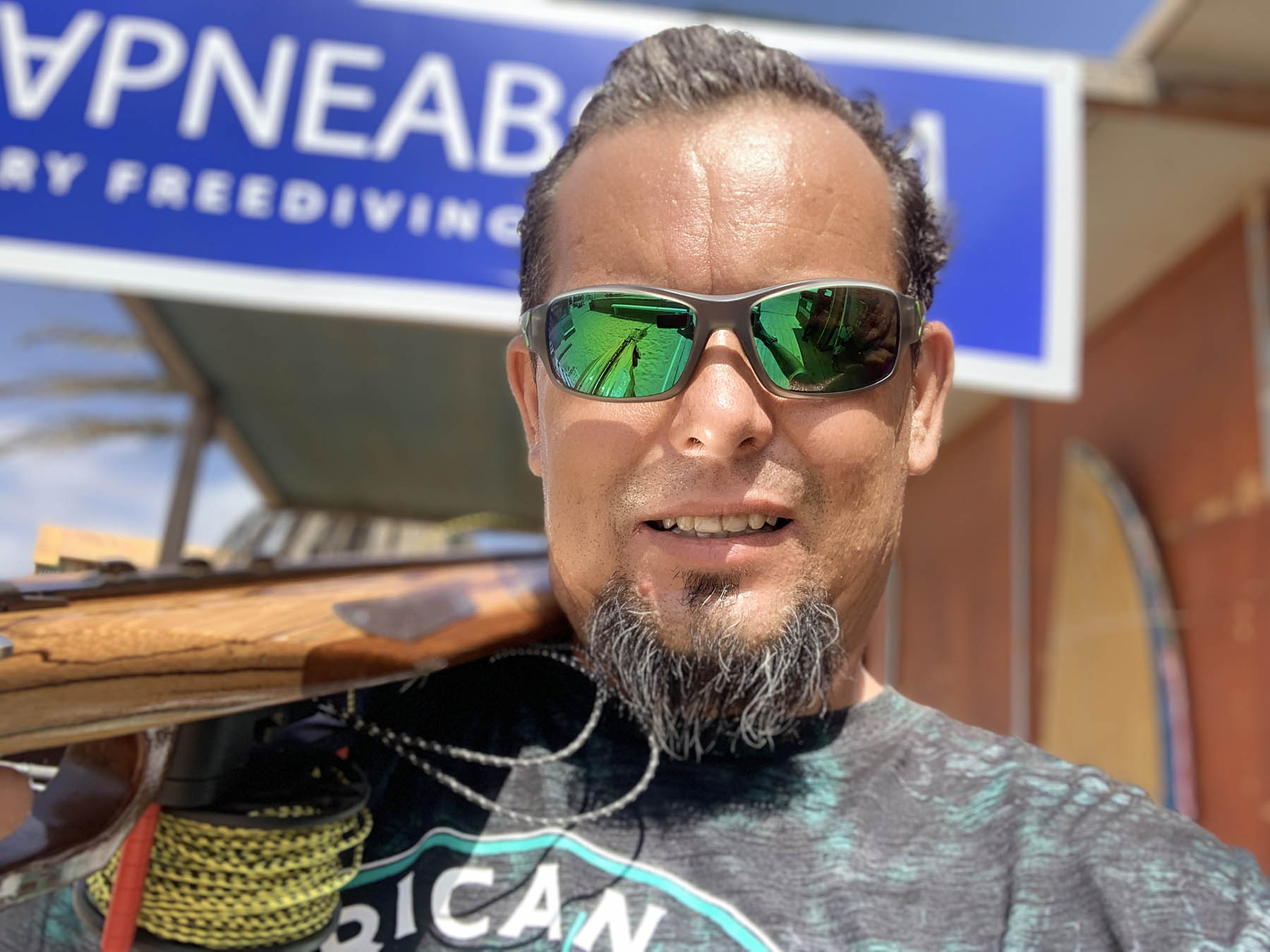 Free airport transfer

Accomodation 5 days

Free breakfast

2 Blue Water trips

1 Reef Spearfishing sesson*

Transfers to and from the beach

Qualified instructors

Comes for price 1499€ only!

*the total amount of sessions per day may depend on the weather
Start your underwater adventure today!