Underwater Apnea Model Course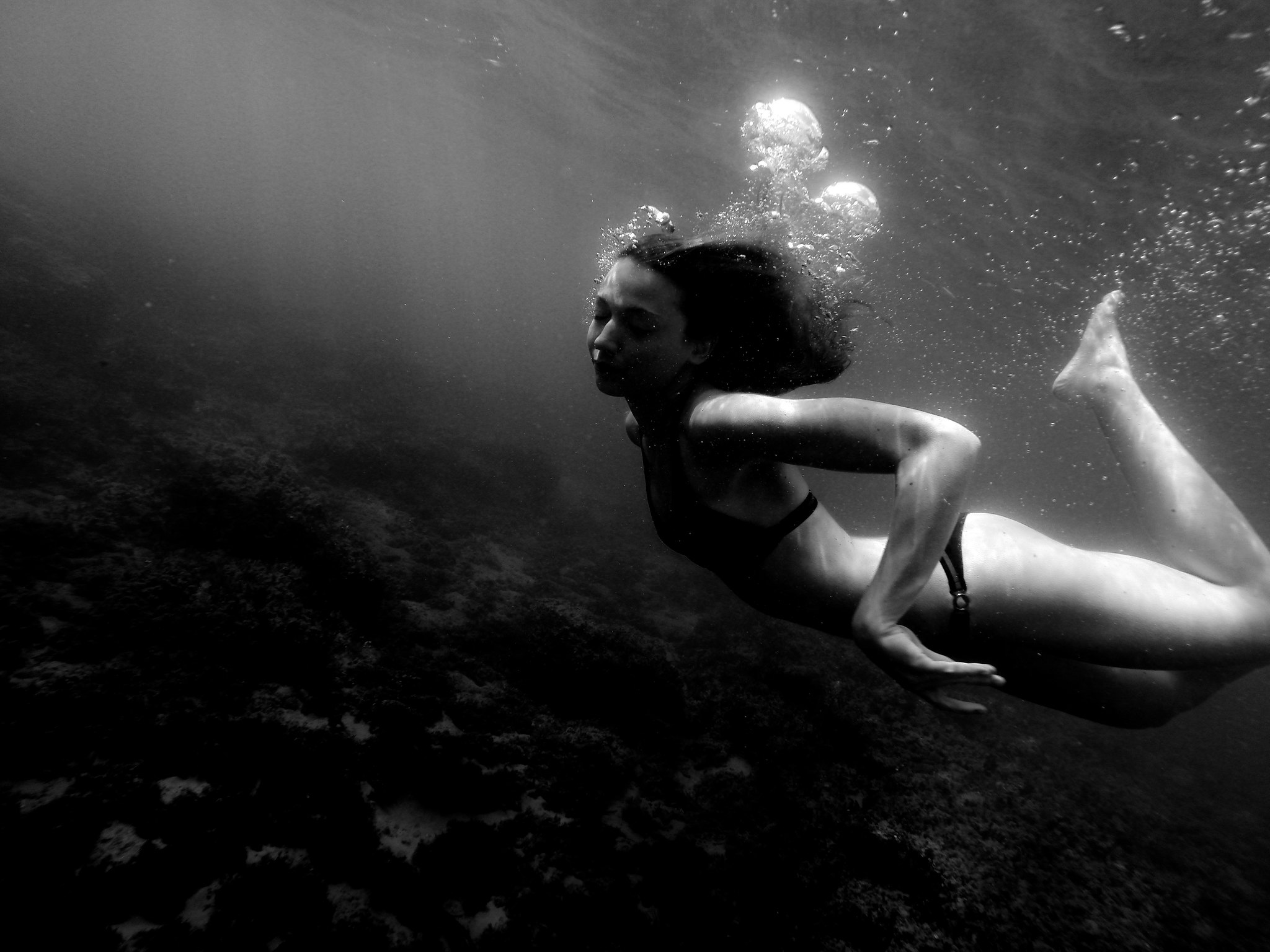 Discover the Art of Professional Underwater Modeling
Are you passionate about becoming a professional underwater model, showcasing your skills and beauty beneath the waves? Look no further! Apnea Boom Freediving School presents the "Underwater Apnea Model Course," designed to enhance your underwater modeling abilities and unlock exciting opportunities in the industry.
Why Choose our Underwater Apnea Model Course?
Unleash Your Potential: Our comprehensive course will take your underwater modeling skills to new heights. Whether you dream of being a mermaid or want to pose elegantly underwater, this course will help you excel as a professional underwater model.

Expert Guidance: Learn from our team of experienced instructors who have collaborated with renowned photographers, agencies, and companies worldwide. Benefit from their wealth of knowledge and expertise in underwater modeling techniques.

Immersive Training: Immerse yourself in a two-day intensive training program led by our seasoned instructors. You'll engage in practical sessions, theory classes, and dynamic underwater photoshoots using professional cameras to capture stunning visuals of your modeling skills.

Exclusive Bonuses: As part of the course, you will receive:
Underwater Photoshoot and Video: Show off your newly acquired modeling skills with a captivating underwater photoshoot and video footage, creating a remarkable portfolio.

Custom Apnea Boom Merchandise: Receive a stylish T-shirt and tote bag as souvenirs, proudly representing your affiliation with Apnea Boom Freediving School.

Free Voucher: Enjoy a special voucher offering exclusive benefits and discounts on future courses and events.
Unforgettable Opportunities: Apnea Boom has established partnerships with prestigious venues in Europe and US, providing unparalleled event entertainment. As a trained underwater model, you'll have the chance to work with top-notch photographers, agencies, and companies, both locally and globally, opening doors to a world of exciting modeling gigs.
Join the Apnea Boom Freediving School's "Underwater Apnea Model Course" and embark on an extraordinary journey into the realm of underwater modeling.
Ages: 12 years old and adults
FAQs
Q: Where is the training conducted?
A: Our training facility is located at the scenic sea shore, offering the perfect environment for honing your underwater modeling skills.
Q: Do I need any previous diving experience?
A: No, our course is designed for individuals with varying levels of experience, including beginners. Our expert instructors will guide you through the necessary techniques and safety procedures.
Q: Are there any hidden costs?
A: No, all course fees include the necessary equipment and training. We do not charge additional fees for certifications or merchandise.
Q: Can I participate if I'm not a strong swimmer?
A: While basic swimming skills are required, you don't need to be an exceptional swimmer. Our instructors will focus on developing your breath-holding abilities and underwater posing techniques.
Q: How long do I have to complete the qualification?
A: You will have 12 months to complete the course and obtain your certification. We also offer refresher training sessions to extend the timeframe, ensuring you have ample opportunity to succeed.
Q: Is there any self-study involved?
A: We provide useful exercises to supplement your learning during the course. While not compulsory, we highly recommend utilizing these resources for a comprehensive understanding of underwater modeling.
Don't miss out on the chance to become a skilled underwater model. Enroll in the Apnea Boom Freediving School's "Underwater Apnea Model Course" today and unlock a world of possibilities beneath the waves!
Day 1 Schedule:
10:00 AM - Welcome and Introductions

Meet your instructors and fellow participants at our training location by the breathtaking open ocean.

10:30 AM - Safety Briefing and Equipment Setup

Learn about the essential safety protocols and procedures for underwater modeling. Our instructors will guide you through the proper setup of your equipment.

11:00 AM - Theory Session: Introduction to Underwater Modeling

Dive into the world of underwater modeling as we cover the fundamentals, techniques, and poses that will help you shine beneath the waves.

12:30 AM - Breath-Holding and Relaxation Techniques

Discover the art of breath-holding and relaxation, essential skills for extended underwater poses. Our instructors will teach you effective techniques to improve your breath-holding abilities.

1:00 PM - Underwater Communication and Teamwork

Learn how to communicate effectively underwater and work as a team during photoshoots. Explore hand signals and non-verbal cues that will enhance your collaboration with photographers and other crew members.

1:30 PM - Practical Session: Underwater Posing Techniques

Get ready to dive into the open ocean and practice various posing techniques. Our instructors will provide guidance and feedback as you refine your underwater modeling skills.

2:30 PM - Dynamic Underwater Photoshoot

Put your newly acquired skills to the test in a dynamic underwater photoshoot. Our instructors and a professional underwater photographer will capture your elegance and grace as you pose beneath the waves.

4:00 PM - Debriefing and Q&A

Wrap up the first day with a debriefing session where you can ask questions, share experiences, and receive feedback on your performance.
Day 2 Schedule:
10:00 AM - Recap and Warm-up

Begin the second day with a recap of the previous day's learnings and a warm-up session to prepare your body for another day of underwater modeling.

10:30 AM - Theory Session: Lighting and Composition

Explore the importance of lighting and composition in underwater photography. Understand how different lighting techniques can enhance your modeling shots and create captivating visuals.

11:30 AM - Practical Session: Advanced Posing Techniques

Dive back into the open ocean to practice advanced underwater posing techniques. Experiment with different angles, movements, and expressions to add depth and creativity to your modeling portfolio.

12:30 AM - Styling and Wardrobe Selection

Take a break and recharge with a delicious lunch while exchanging ideas and experiences with your fellow participants.

1:30 PM - Collaborative Photoshoot

Collaborate with fellow participants in a group underwater photoshoot. Showcase your teamwork skills and create captivating visuals together.

3:30 PM - Review and Critique Session

Engage in a review and critique session where our instructors will provide valuable feedback on your progress, offering insights to further refine your underwater modeling skills.

4:30 PM - Certification Ceremony

Conclude the course with a special certification ceremony. Receive your well-deserved certification as an underwater model and celebrate your achievements with your instructors and fellow participants.

5:00 PM - Farewell and Networking

Bid farewell to your instructors and fellow participants while networking and exchanging contact information with industry professionals who may offer future modeling opportunities.

Price 245€ 195€
Course duration: 2 days
Please note that the schedule is subject to change based on weather conditions and other unforeseen circumstances to ensure the safety and quality of the training experience.